On 12-12-12, Los Angeles-based progressive rock band Forever Twelve welcomes John Baker as lead vocalist.
Baker, previously lead vocalist for internationally-known progressive rock band Mars Hollow, as well as member of The Little Girls and Harvey Sid Fisher, has received high reviews from both journalists and fans alike for his unique voice – often likened to Geddy Lee (Rush) and Jon Anderson (Yes) and his melodies and lyrics. Baker's songs have also been picked up by publishers and performers around the world, including Kristi Yamaguchi. He brings both his melody and lyrical talents to the table with Forever Twelve in the first single titled "Daisy Chain," a pre-release from the forthcoming 2013 album. Baker has also played and toured internationally with The Little Girls and Harvey Sid Fisher.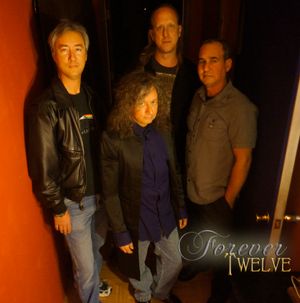 Forever Twelve also consists of keyboardist Steve Barberic, guitarist Tom Graham, bassist Kenny Hundt and drummer Fernando Martinez. Forever Twelve is saddened by the departure of lead vocalist and flautist Cat Ellen, whom performed on the band's previous three albums. "We wish her the very best in her future endeavors, which are many," said Tom Graham. "We are at the same time very excited about our future, and bringing John Baker into the group will add a different dimension to our music, even though we plan to continue with our same progressive rock path."
In addition to playing festivals, and sharing stages with bands such as Glass, Rocket Scientists and Mars Hollow, Forever Twelve has previously released three albums, Remembering Branch, Spark of Light and Taking Forever as independent releases. "Daisy Chain" and the forthcoming album are being released by Fingerwoven Records, whose roster includes Lisa LaRue 2KX, Mars Hollow, and distributes digital releases by ARZ, Don Schiff, John Payne, Souljourners and more.
"Daisy Chain," the first offering from Forever Twelve featuring Baker on vocals, is available as of 12-12-12 from the Fingerwoven Records' Online Shop at http://lisalaruemusic.com/forevertwelve.cfm The online audio trailer can be heard at https://soundcloud.com/fingerwoven-records/forever-twelve-daisy-chain
Along with the official web site, http://www.forevertwelve.com, which is currently under reconstruction, you can also 'Like" Forever Twelve at their new Facebook fanpage located at http://www.facebook.com/forevertwelve