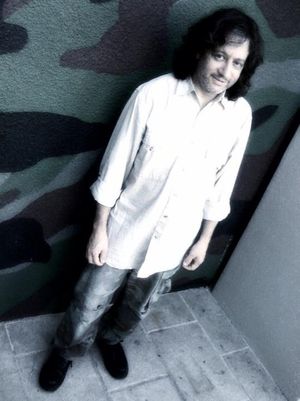 John Baker grew up in Colorado, and began playing guitar at age seven. One year later, he began leading the Sunday parishioners in song, and had advanced to the electric guitar.
As his interest in writing and recording grew, he formed a band called "Cousin Anne" at age 13 and began playing school dances, and other events. The group played a combination of cover songs and original pieces.
Later in his teens, he built a 4-track recording studio in his parents' basement (while they were on vacation!) where he and his musical friends recorded home demos and rehearsed. John made good use of this studio until he decided to hit the open road, and head for Los Angeles with his band, "The Envy."
Upon arriving in LA, John began working with a close friend who had opened a studio, and pursued songwriting and working with other musicians. From 1988-92, he formed "The Lumins," an original band based on John's compositions. The group recorded an unreleased compilation of these songs, and played local shows. Upon disbanding, John spent the next few years perfecting his ever-growing repertoire of original compositions and beginning to form the frame-work of a solo album.
By 1995, John was operating a studio business in LA, and obtained a songwriter/production deal with Music Grinder Studio's House of Brick Music.
From 1997 through 2002, John had formed and led a band called "The Scavengers," which was also an outlet for his original compositions.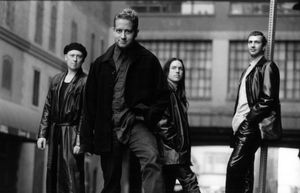 The Scavengers
Although continuing to pursue and hone his songwriting skills, John desired to play live shows, and was asked to join "The Little Girls" as bass player. He was with the band from 2002-08, and co-produced and engineered their album, "No More Vinyl." During this time, he also played bass with Harvey Sid Fisher as well as engineered recordings for Fisher.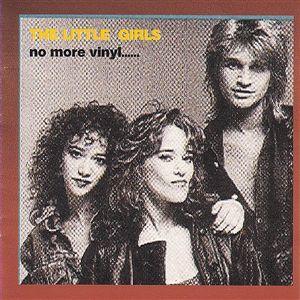 It was soon after that John joined  "Mars Hollow," whom he worked with as Lead Vocalist and Guitarist, and where he was also able to foster his collaborative songwriting.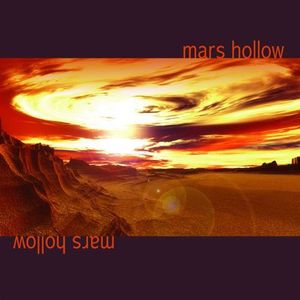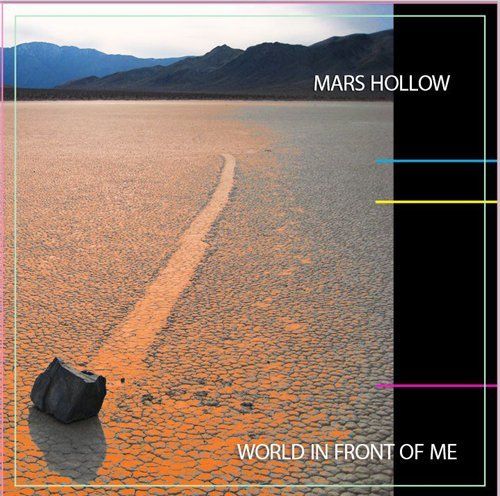 In 2012, John joined Los Angeles-based progressive rock band "Forever Twelve" as lead vocalist and as a co-writer.  Their first single, "Daisy Chain," was released on 12-12-12 and they continue to work on their forthcoming album.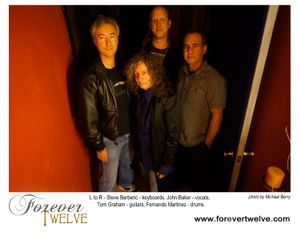 Throughout the years, John Baker has held stints as guitarist and backing vocalist for various original bands and musicians, including Christian Love of "The Beach Boys" and Tom Caufield.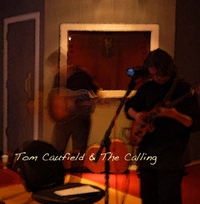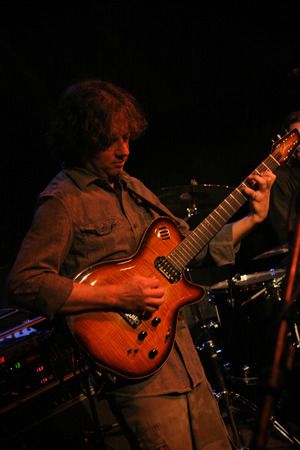 John Baker wuth
Tom Caufield & The Calling
In 2011, John participated in a benefit EP project entitled "
Beautiful Life
," with Lisa LaRue 2KX *Lisa LaRue, Steve Adams, Merrill Hale, Don Schiff, Dave Schiff).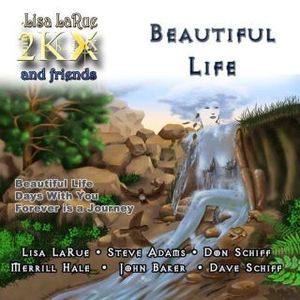 Audiobook / Dialogue Work
Since 1995, John has been operating a successful studio business, comprised of music projects, audio drama, and dialogue work. In the music field, John has worked on some interesting projects including David Hasselhoff's recording of the Baywatch closing theme, as well as many songwriter's demos for A&M Records. In this capacity, he worked with many musicians and producers, including Mick Taylor (Rolling Stones) and Richie Zito (Elton John, Tina Turner, Heart).
In the dialogue field, John has directed, engineered, and edited hundreds of audio books including works by authors such as Robert Ludlum, Danielle Steele and Deepak Chopra. Also a rewarding part of this field are the many audio dramas John has had the opportunity to work on. In 2005, he engineered and co-produced "Sweeney Todd" which won two AUDIE Awards, one for Best Production and one for Best Audio Drama (2005). In 2009, John engineered "Sherlock Holmes Theatre" which won an AUDIE Award (2009) for Best Audio Drama. He also engineered, co-produced (with producer Yuri Rasovsky) and composed the music for "The Oresteia" in 2007.
In 2013, John opened his own facility in the historic Doyal Bland Building in downtown Muskogee, Oklahoma, where he continues to work with existing audiobook clients on directing projects and editing, and is available for new clients in these areas as well as audiobook engineering and other dialogue projects such as web sound and presentations.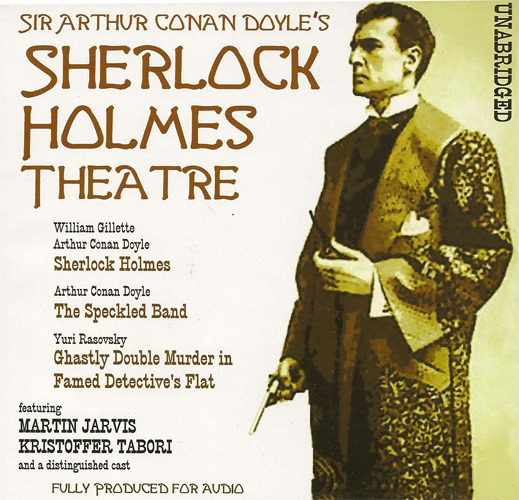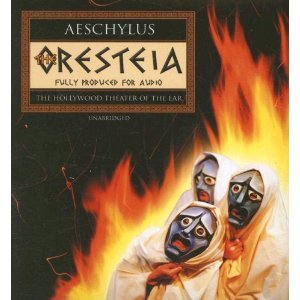 After residing in and working out of Los Angeles for over 20 years, John now resides with his musician wife Lisa LaRue and their three cats in Muskogee, Olahoma, and continues to enjoy songwriting, playing music, and his newly opened facility, "John Baker - audio engineer" focusing on audiobooks and other dialogue projects.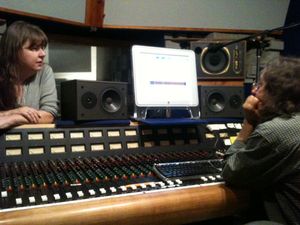 Lisa LaRue and John Baker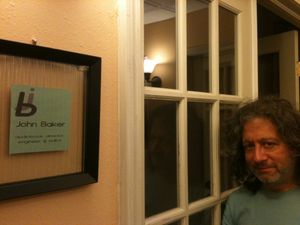 John Baker outside his new audiobook editing and directing suite in Muskogee.  Photos coming soon of the new John Baker recording studio!